Family and Children Activities
Some of the Special Services we offer for the Children at the hotel includes;
Junior Guest DVDs
Children's Menu in the Bistro
Kids Club (Specific dates set annually)
Children's Swimming Pool
Killashee Woodland Walkways and Gardens throughout the estate including the Fairy Forest, Emma's Butterfly Garden in aid of DEBRA Ireland and the Jack & Jill Foundation Garden
Outdoor Playground - Includes Climbing nets, Slides, Climbing Walls, Swings, Tunnels & our very own Zipline
Experienced and trained babysitters (additional charge)
Children's Playroom and Library
Killashee Payground
Butterfly Trail & Fairy Forest
Family Bicycles
Cots and bedding for small babies
Children's Evening Club (specific dates set annually)
Killashee Kids Club
Killashee will run kids club from 9.30am-12noon on Tuesday 1st, Wednesday 2nd & Thursday 3rd of January 2019. This is complimentary for all children staying with their families on the Family Fun accommodation package. The Children's evening club will run on the same dates from 6pm-9pm.
The Fairy Forest & Killashee Playground
Killashee has an enchanted fairy forest deep in the woodlands for the children to explore. The fairy worksheet for the children can be collected at reception so they can follow the fairies and do the activities. Along with the Fairy Forest, Killashee has acres of manicured gardens and walkways to explore. Killashee Palyground is located down by our fairy forest and includes a junglegym, zipline, swings and much more.
NEW Butterfly Trail
Killashee has a brand new butterfly treaure hunt throughout the gardens. Make sure to go to the reception desk in the hotel to get your Butterfly map to find the clues. Explore the butterfly gardens, down through the playground around by the teddy bear picnic trail and the fairy forest to find the magically butterfly letters to spell the secret word on your map. Once you have all the clues go to reception to get your winning surprise. Click Here.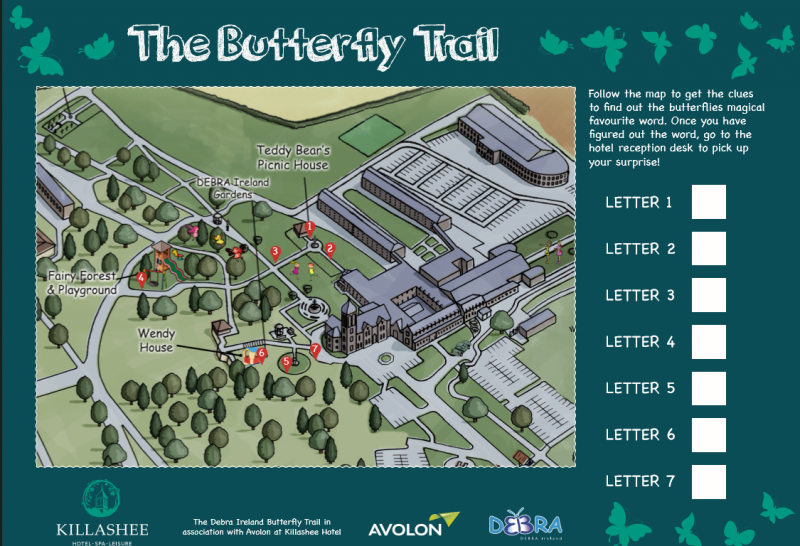 Family Bicycle Ride
Killashee has 2 adult bicycles & 4 childrens bicycles that can be taken to cycle the Estate. These are complimentary for people staying on the family package and can be used at any time in the day.
**Bicycles cannot be taken off the estate
**Subject to availability
Santa's House Express
Santa's House Express 2018 – Ireland's Best Santa Train Experience is back. It is located at Palmerstown House Estate this Christmas for its 5th year. The express books up quickly so make sure to book your places today for this fantastic festive family event near Killashee Hotel.
With Santa Claus back in Naas along with Mrs Claus, the Elves and of course Archie, you are sure to have a great day. There will be entertainment and performers as well as unforgettable magical Christmas experience. One of the new attractions sees the arrival of an amazing Family Festival Funfair. So book your departure on Santa's Polar Express Train today
Childrens Library & Playroom
Killashee has a small children's library & playroom room. This area has beanbags for the children to sit back and enjoy some of the top children stories. Let the creative builder out and design a house, school, stadium or even spaceship. Let your imagination run wild.
Lullymore Hertiage Park
Lullymore Hertiage Park have lots to do for families, this is a great day out. There is the funky forest indoor play centre, crazy golf course, the new Peatland Trail, outdoor playground and much more. This is a must do trip when staying at Killashee. To burn off lots of energy , there's the "funky forest" indoor play centre with giant slide and ball pools, air hockey, fussball, cable run and pirate ship. There's also a crazy golf course, large quality outdoor playground with new updated play features and the hugely popular train trip through the new Peatland Biodiversity Trail.
Santa arrives in Lullymore on Saturday 1st of December and departs for the North Pole on Sunday 23rd of December 2018. A magical experience for both young and old is guaranteed as the park is transformed into a Winter Wonderland of family fun with some very special guests to entertain you along the way!
Your 2018 Christmas visit at the Lullymore Winter Wonderland will include:
Visit to Santa and gift from Elves in workshop
Festive Train trip – Our Road Train will take you on a magical trip through ancient woodlands, glassy lakes and a beautiful peatland landscape.
Elf Hologram in New Stone Age House in woodland.
Christmas Fairy Hologram in old style thatched cottage.
Illuminated walkway through woodland.
Visit the Crib scene in the old style thatched cottage.
Animals such as donkeys, goats and miniature horses will be in paddocks beside centre. Illuminated Fairy Bower visit Arrival of Santa and his friends by Road Train – Welcome Santa and the gang and meet and greet them all on their arrival!
Funky Forest becomes a Winter Wonderland. Fun with the elves in Funky Forest Indoor Centre and make sure to post your letter to Santa.
For More Information see here
Killashee is only 35minutes drive to the Lullymore Hertiage Park.
Kildare Village
Kildare Village is a Chic Outlet Shopping Village of luxury brands. The collection in the open air village has over 80 different designer shops. The best thing about the village is that it offers up tp 60% off on all the leading brands so it makes your fabulous wardrode even more affordable. The Village has a selection of cafes and restaurants along with a playground for the kids. It is a great day out for all the family! The festive spirit and decorations are not to be missed in Kildare Village.
Killashee is only 15 minutes drive to Kildare Village.
The Irish National Stud
The Irish National Stud symbolises all that is great about County Kildare, the Stud of Irish Legends, the magnificent horses on show, the outstanding natural beauty, the Japanese Gardens, the visitor centre, museum and cafe, the National Stud really has it all. Visitors can also savour the serene experience provided by one of the Stud's more recent additions, St Fiachra's Garden, a stunning representations of the country's landscape. This is a lovely day out for the family as the kids can wonder through the gardens, see the horses, play in the playground, learn all about Kildares proudest attributes.
The Winter opening hours are Monday- Friday 9am-5pm as the horses retreat to their cosy stables for the winter months. They fully reopen on MOnday 11th February 2019.
Killashee is only 15 minutes drive to The Irish National Stud
Russborough House
For a unique Christmas experience, see Ireland's most beautiful house. Enjoy mulled wine & mince pies or cookies & hot chocolate after a magical tour of the house all dressed for Christmas. This festive experience is not one to be missed. Christmas at Russborough starts on Sunday 10th of November until Saturday 22nd of December.
Weekdays: On the hour from 12noon, Twilight Tour: 4pm
Weekends: On the hour from 11am, Twilight Tour: 4pm
Killashee is only 15 minutes drive to Russborough House
Barge Trip
The Barge trip have launched the new skipper cruise service with scheduled weekend cruises every Friday, Saturday and Sunday. Canal Cruises run at 10am, 1pm, 2.15pm and 4pm with tickets ranging from €8.00 to €22.00 depending on the Cruise. For Full details please see www.bargetrip.ie. Special discount available for residents at Killashee.
Killashee is only 10 minute drive to the Barge Trip.