Johnny Magory-Irish Wildlife & Heritage Trail
Killashee are delighted to announce we have joined up with Johnny Magory-Irish Wildlife & Heritage for Children. Newly added to the Family Programme at Killashee this year. Another reason to book your family staycation with us. Johnny Magory- Irish Heritage for Children is a local Kildare Company and the owner is a lady called Emma Jane Leeson. Emma Jane is an author of a children's book series called "I'll tell you a story about Johnny Magory" and all the books are based on outdoor adventures around Irish wildlife, nature, heritage & some Gaeilge too.

We have 4 activities on site associated with Johnny Magory on our estate to make your family visit even more magical. Click here for more information on the activities.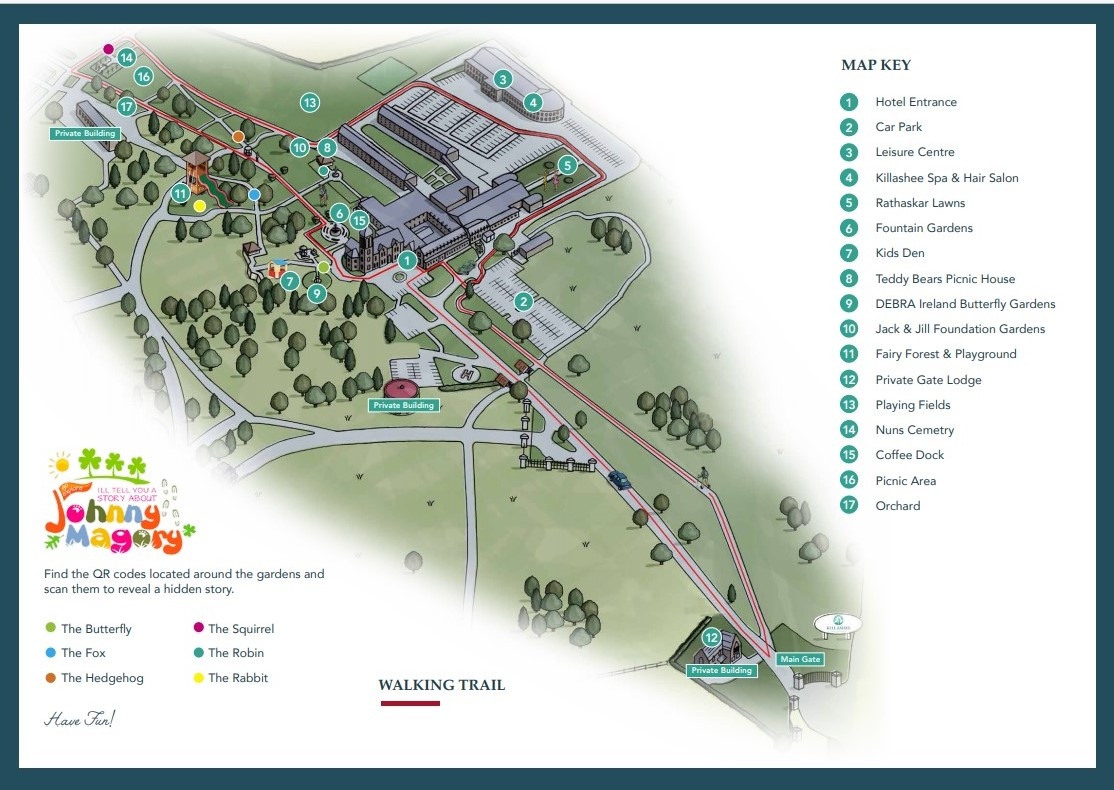 The Fairy Forest & Killashee Playground
Killashee's fairy forest is deep in the woodlands for the children to explore. The fairy worksheet for the children can be collected at reception so they can follow the fairies and do the activities. Along with the Fairy Forest, Killashee has acres of manicured gardens and walkways to explore. Killashee Playground is located down by our fairy forest and includes a jungle gym, zipline, swings and much more.
Butterfly Trail
This stunning creation of a butterfly garden was the brainchild of Emma Fogarty, Patient Ambassador with DEBRA Ireland. It was her dream to have a butterfly garden in a location where those affected by EB can go to enjoy peace & tranquillity. This striking garden is complete with a fountain, butterfly houses and gazebo. This beautiful garden will be a place where all people can come to reflect & get away from the stresses, they face in their everyday life
Killashee has a brand-new butterfly treasure hunt throughout the gardens. Make sure to go to the reception desk in the hotel to get your Butterfly map to find the clues. Explore the butterfly gardens, down through the playground around by the teddy bear picnic trail and the fairy forest to find the magically butterfly letters to spell the secret word on your map. Once you have all the clues go to reception to get your winning surprise. (Click Here to Butterfly Trail- Take out the Picture, no need for both)
Family Bicycle Ride
Killashee has 2 adult bicycles & 4 children's bicycles that can be taken to cycle the Estate. These are complimentary for people staying on the family package and can be used at any time in the day. *Bicycles cannot be taken off the estate and are available on request
Children's Library & Playroom
Killashee has a small children's library & playroom room. This area has beanbags for the children to sit back and enjoy some of the top children's stories. Let the creative builder out and design a house, school, stadium or even spaceship. Let your imagination run wild.
Swimming Pool
As part of your stay here at Killashee you will have full access to our Leisure Centre Facilities equipped with a 25-metre swimming pool, with a separate pool the kids can have all to themselves!
Children's Passport
Upon check in you will receive Killashee Children's Passport- discover all the Nooks and Crannies of Killashee to gain all 9 stamps and receive a treat from Reception!